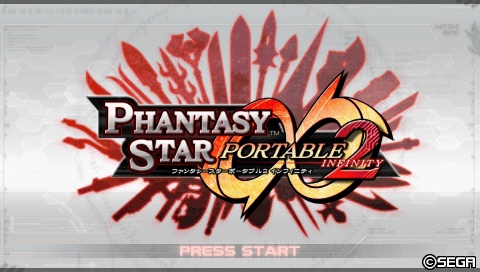 PHANTASY STAR PORTABLE 2 INFINITY!!
Sounds
like a good way to make money! Sega returns the Portable Phantasy Star
series with PSP2I and with voice dialogue again! This time around it seems they have really did a good
job on making the fans of the franchise happy!
From what I've played so far you can pick from 1-2 Episodes!
The first Episode I'm sure you'll Recognize from Phantasy Star Portable 2.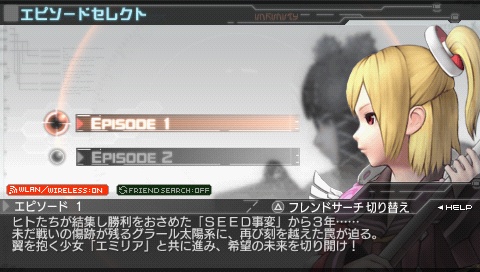 Another
Change I like is how they've changed some of the animations and speeds
of weapons making more fans happy is a good thing right? Some of these
changes I've noticed are some changes in the way you hold weapons such
as the Twin Sabers and the Twin Handguns!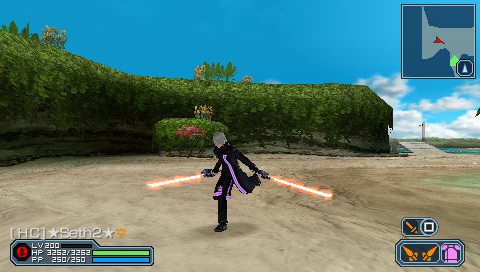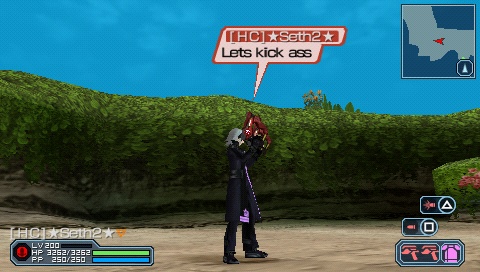 From
what you can see in the photos above, there's a change in the running
animation with the twin sabers, and a change in the standing animation
with the twin handguns. I really like what they've did there. Every new
game has its improvements right? Well here are some more improvements
you've probably noticed if you played the demo of PSP2I, or as i like to
call it... REVAMPED CHARGE SHOTS!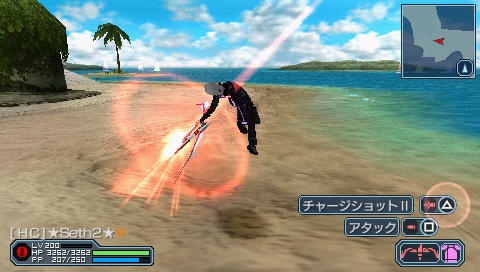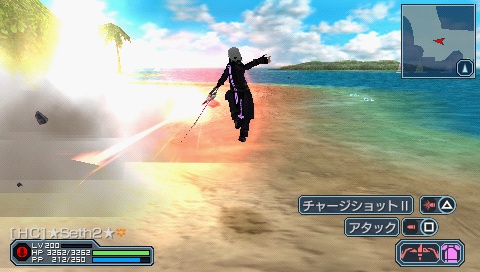 I've
got to say this is a REAL improvement Sega has made! Instead of the old
and boring charge shots we get a variety of charge shots which vary on
weapons! From all the gun typed weapons my favorite was the bow such a
Awesome charge shot! I think they should rename the bows charge shot and
call it Can of whoop ass!
Well another thing I'm gonna review is
the new option to invite your own characters that you've created! Yes
that's right it has all your weapons and armor you've left that
character with!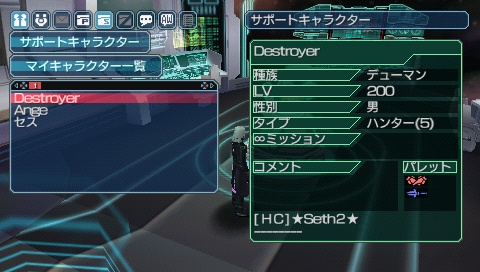 You'll
see them here on the support card section this shows you the type of
weapons they have equipped, their rank, level and so on.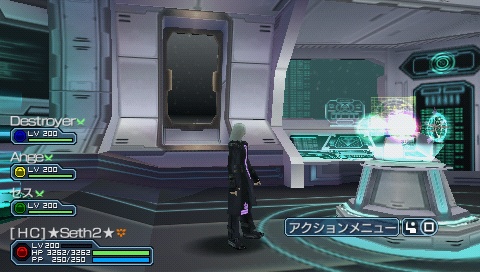 Now
if you go to invite you will find a option to invite those characters
to your party and then after that its time to kick some ass! I'm not
sure if you can use other peoples cards (That you've collected online)
to fight with you, because i couldn't connect.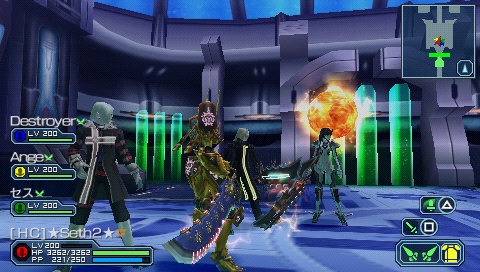 Well
after a hard day of training 3 characters to fight along side you, I'd
say you've earned yourself a nice long time of sending monsters to their
DOOOOOM!
Another option I've came across was a option to protect
your weapons from being sold! This comes in handy If your carrying more
than 6 weapons!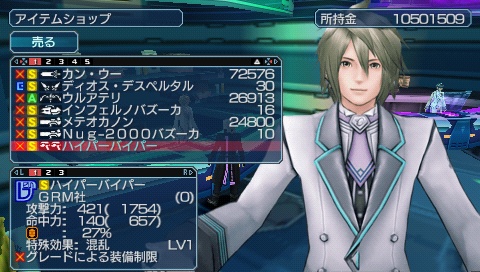 Now
that's a option that was needed after i sold my Rare staff months ago!
And now Sega includes it! Damn you Sega i want a refund for that staff!
Well anywho this will keep plenty of your items safe if your lugging
around more than 6 like i am in PSP2!
Okay.. And now the last part of this review (For now) Because If i find more options i may as well just begin a part 2!
Well for the last part I'd like to present my favorite grinding area! High in Type Points and EXP!!
Its
located in the Tactical missions section full of joy and happiness! You
can choose from C-Infinity But remember the higher the difficulty the
higher the Type POINTS!!
You will be protecting what seems to be the cake ladies from that secret cake place you encounter at the end of a mission in PSP2.
You'll be fighting through three rooms of horror filled with traps and monsters that want to stop the mass production of... CAKE!
But I'm not too sure if anyone understands me here, they never talk back!
In the last room its dark and scary, after you defeat the three enemies located by each lady a key will appear, but all keys are harmless aren't they?
Hmm.. Looks like i was wrong after you pick up that key you have to fight 5 more monsters before the other key drops. And when you pick up that key no guy comes out of the darkness and try's to kill you!
At the end of the mission you will be facing Orga Dyran One of the rarest monsters in PSP2! But not no more you can keep fighting him via this mission!
Yup at the end of the mission you get your self a fair amount of Type points, i got 355 cause i did S. You get 400 something in Infinity!
Well that's all for now hope you enjoyed reading cause this took some time to put together, but I'll include some secondary options i didn't take pictures for at the bottom! Also i don't really give number ratings because who cares about a number when you can tell about the options and improvements a company has made in their game! The graphics are very good for a portable system as well. And having the voice dialogue is something good for people who can't read, I'm glad that they brought that back just like it was In The First Phantasy Star On PSP!
They've also added tons more weapons and clothing giving you more things to choose from i can tell that this game is going to be a real hit especially for the fans of the series. If you think the first one was short and seemed half made, well then i think you will enjoy PSP2I very much seeing how SEGA has improved tons of elements in the game leaving you with a lot more things to do!
Now PSP2I is going to involve a lot more grinding now that they have introduced a new option at the class counter to increase a specified statistic and once you have selected it your level will be reset to 1 and you will have to level back up again to increase your stats even more! I can tell that this game will be very time consuming and for those hardcore gamers that's a good thing!
SEGA has added so many new options to this game that there might be more i don't even know about! One of those options is the screen shot key, now if you hold down select you will see a camera appear! That's to take screen shots just press start and snap! You got yourself a picture! This will come in handy for people who love to treasure memories or people who just love to take action photos! No game is complete without a screen shot option!
I also heard that there may be a mission creating option, but i haven't ran into that yet maybe its just a "Myth" or i haven't unlocked it yet!
If i had to give this game a rating i would give it a 10/10.
~Seth
Well I'm off to get breakfast
Game on!
Last edited by [DivineMaiden]Eve on Tue Mar 22, 2011 5:08 pm; edited 2 times in total (Reason for editing : put a sticky on it)